Thursday, July 10, 2008
I decided to park the car back in January and have been commuting it ever since. The
Trek Soho S
has been my A to B rocket, and I couldn't be happier with it. The singlespeed is simplespeed, and the matte black is super sweet. Being able to spin on the bike is so much quicker and less frustrating than fighting traffic and burning gas. The greenway system in Knoxville keeps growing, which makes commuting even more convenient. I think the current tally is around 40 miles of greenways in the city, with plans for more. Although, you do have to watch out for the occasional but elusive
Knoxville lemurs
.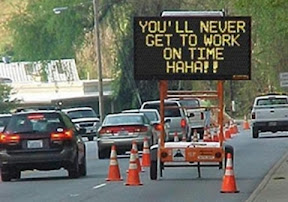 You don't want to see this, so whether you're heading to work, running errands, or just catching a flick, hop on the bike and give it a go. It's amazing how much better you feel spinning on the bike while everyone else is trapped in their cars. And who can complain about saving money and reducing greenhouse gasses? Join the pedal power revolution today.

On a side note, a great part of my commute to the
U of T
is always the 2 or 3 minutes I spend basking in the glory of the MovinCool. This little guy keeps our servers cool by shooting freezing cold air out at maximum velocity. According to the sticker, it cools at a rate of 24,000 btu/hour. I don't really know what the hell a british thermal unit converts to, but it sounds impressive… But anyways, this thing takes you from sweating to shivering in a minute flat… Ooooooh, yeah.
2 Comments:
Stephen & Rachel said...

July 11, 2008 at 10:35 AM

 

Commuting is the way to go Dave! I tried riding my SS RIG to school at the end of the year just for the fun of it and it sucked. It is not geared for riding to school, plus the tires were not adequate for the road. My Paragon 29'er works great for commuting with the inverts on. See you soon!
Rach

Derek said...

July 13, 2008 at 12:17 PM

 

That's it, you've sold me. I'm trading in my San Jose for a Soho...